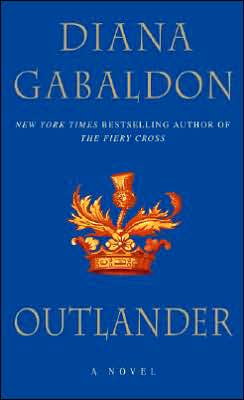 I get into a lot of fights about Diana Gabaldon's Outlander.  Working in a library every day I hear books bashed all the time and 99% of the comments roll off me like water off a duck.  This is the one that I always defend though.  It was published in 1991 and marketed as a historical romance.  And it is one – to a point.  My problem is with leaving it classed with just those two words.  Outlander (and the series it kicks off) is so much more – time-travel adventure, family saga, and history lesson (one that you really want to pay attention to).
Basic premise: British WWI-era nurse and her historian husband are vacationing in the Scottish Highlands after the war, when Claire accidentally travels 200 years back in time while exploring a rock formation akin to Stonehenge.  Astonished to find herself being attacked by an English soldier that bears a very strong resemblance to her husband, she is saved by a band of Highland outlaws.  Using her 'modern' nursing skills to take care of a wounded young outlaw named Jamie, Claire struggles to find a place in this historic world. Soon enough she is forced to marry Jamie in order to find some form of permanent protection.
So far this fits in with all the other paperback romances you'll find on the shelf.  But Gabaldon didn't need 600-plus pages to tell that story.  Historical fiction fans will find a ton of things to sink their teeth into – be it incredible descriptions of medical practice circa 1743 or detailed, accurate synopses of battles.  And, well, to be frank, there are no flowery descriptions of sex.  Sex here is pretty hot, but without the silly words like 'manhood,' etc. The characters are fully realized – as any fan of the series would tell you: before there was an Edward Cullen, there was Jamie Fraser.  And vampire or no, Edward wouldn't stand a chance against the Scot.  Claire, in addition to her medical smarts, would probably snatch Bella bald-headead in a cat-fight.
If you end up loving this book, the good news is that Gabaldon published the seventh book in the Outlander series, An Echo in the Bone, in September 2009.  There is also a spin-off mystery series that features a character introduced in Voyager (third in the series) – the Lord John Grey.
Click here to find this book in our catalog.
Tags: 18th Century, Fantasy, Historical Fiction, Kathryn G.'s Picks, Romance, Scotland, Time Travel